A powerful PDF engine that allows you to preflight and change PDF files hands-free.
Unlock the power of automation, ensure flawless PDF quality control, and achieve consistent results across all your print projects. Experience increased productivity, reduced costs, and the peace of mind that comes from knowing your files are error-free and ready for production.
• Automated PDF preflight
• PDF transparency flattening
• Full ICC & DeviceLink colour management
• Import your PitStop Pro profiles & actions
• Comes with a free Switch Core Engine!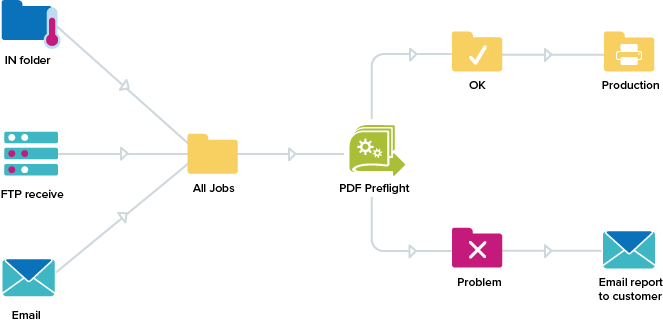 Save time and reduce human error by automating tasks using PitStop Server's action lists and profiles. Define conditions, variables, and sequences to process files based on your requirements. Whether it's resizing pages, adjusting color, or adding bleed, PitStop Server streamlines your production line, freeing up your team to focus on other tasks.
Straightforward Integration
PitStop Server seamlessly integrates into your existing production environment with hassle-free implementation. It uses industry-standard PDF libraries and compatibility to be easily incorporated into your current workflow without disruption. Maximize your productivity and take advantage of its full potential from day one.
Stay informed and make data-driven decisions with PitStop Server's comprehensive reporting capabilities. Monitor job progress and track key metrics with detailed reports on preflight results, error logs, and performance statistics. Identify bottlenecks, optimize your workflows, and continuously improve your efficiency.
Interested in PitStop Server?