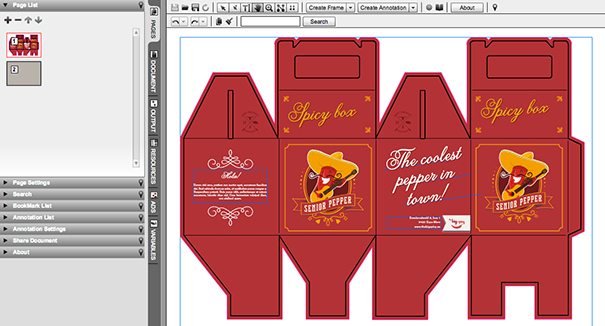 Chili Publisher Makes Online Document Editing Hotter than Ever
Chili Publisher is the must see Online Document Editor used around the world. It is making an appearance at Graphics Canada this November. Chili is a flexible product to handle work from all facets of the Graphic Arts Industry. With Chili Publisher you have control of the data and the power to give clients exactly the tools they need to create, edit and collaborate online using your workflow.
Professional tools for Variable Data, Barcodes, 3D Proofing, Booklet Proofing, ePub, Text and Images, Drawing, Fonts, Color, Templates and PDF Creation are all inside the Chili Editor.
Chili Publisher works with Flash or HTML 5 so it can work with any browser. Mobile devices such as phones or tablets can be used to work with the Editor so customers and sales people can work together on the spot. Chili Publisher has a built in rendering engine that makes this online editor the prime choice because it is independent and will adapt to any future technology. This makes your online workflow stand up to any changes the internet may bring.
The features are too numerous to list here but I will touch on some of the top items:
Creating or Uploading a Document
You can create new documents from scratch or use templates that you have created in Adobe Indesign. Complete Indesign documents can also be used. The Chili Plug in for Indesign preflights the file and uploads it to Chili Publisher with all its fonts and links. The preflight can be used in real time as you build a job to avoid changes at a later stage. The "Fix it for me" feature, allows the Indesign user to let the plug in fix any issues automatically.
Document Editing
The Editor supports CMYK colors as well as RGB, Lab, Spot and Gradients. Open type and true type fonts are uploaded with the document but you can add more fonts with a simple click. All types of text manipulations are supported from "type on a path" to adding strokes to text. Chili Publisher behaves as a professional layout program should, with features such as: Word wrap, auto grow, spell check, hyphenations, overflow warnings. Support for image conversions with profiles and image transformations for jpeg, eps and pdf files.
Barcodes and Variable Data
Create barcodes on the fly in QR, Datamatrix, postnet, UPC, EAN13 or ISBN format. Editing the variable data for the barcode updates the code in real time. Variables can also be used in color definitions, on layers, text frames, image frames and in actions. The variable data feature has support for structured data as well as third party tools like Sales Force and Google Spreadsheet.
Content Proofing
Online proofing can be as simple as viewing the document itself. Chili Publisher takes the proofing one step further with 3D Visualization which supports the Collada format (an interchange format for 3D applications).
Output
Chili Publisher can generate high resolution PDF files including PDF files with variable data. Epub out will export a file that can be read in an ePub compatible reader. HTML 5 output can be created from a Chili Publisher document allowing repurposing of files for online communications. The file can also be exported back into Adobe Indesign.
Chili Publisher addresses many of the issues facing the graphic arts industry today. The technology changes quickly but Chili Publisher is designed to be ready for those changes. Everything from Ad workflows to Packaging workflows and all other Print workflows in between have their needs addressed with Chili Publisher and their engine supporting both Flash and HTML 5.
You can find out more about Chili Publisher at www.chili-publish.com or contact www.tools4media.com.